* PLEASE READ REGARDING BLOG IMAGE HOSTING *
Due to the recent change in Photobucket's 3rd party hosted graphic policy, many blogs that I created at a low price, will have broken images. I was hosting the blog images for free out of the kindness of my heart and thought it would be a fun add-on for everyone who bought a blog makeover from me. I have never once been paid a fee, monthly or otherwise, to host graphics of any kind from a blog makeover I personally created, and at this time I will NOT be purchasing the 3rd party hosting capiblity through Photobucket. Therefore, if you have broken blog images (as I do, on my own personal blog and this website here, even), my suggestion would be to either purchase the photobucket option (though it seems extremely expensive in my opinion), or your own hosting through companies such as godaddy.com, hostgator.com or any others available for low monthly fees. If you have a blog that I have personally created, I SAVE ALL OF YOUR GRAPHICS and I am willing to use your personal hosting and even upload any graphics I've personally made you (to your paid hosting account) and fix your blog for a minimal fee. I'm sorry that this has happened and I personally do not agree with Photobuckets' decision to do this. For everyone's who has purchased a blog makeover from me past, present or future, THANK YOU and feel free to contact me any time to talk about your options if you choose to have me help you with your graphics hosting. You can email me at any time.
I want to thank you for stopping by, please take a look around using the navigational tabs. If you'd like a list of all of my services that I offer, simply click the SHOPPING CART  / SHOP  icon at the very top right of this website. If you would like to check out some of my work, please click the PORTFOLIO & ORDERING button directly below my header. I am very flexible and really enjoy designing, so if you've got any ideas that you don't see on this site, please e-mail me and ask! Also, keep in mind that the examples shown on this site regarding the style and/or type of blog (header, elements etc)/blinkie, are just that- examples. I will try my hardest to design the blog/blinkie that you have in mind. If you have any questions at all regarding how this process works please check out my quick tutorial on how ordering works or fill out a contact form  before committing yourself to an order! You can view my revised Terms and Conditions HERE.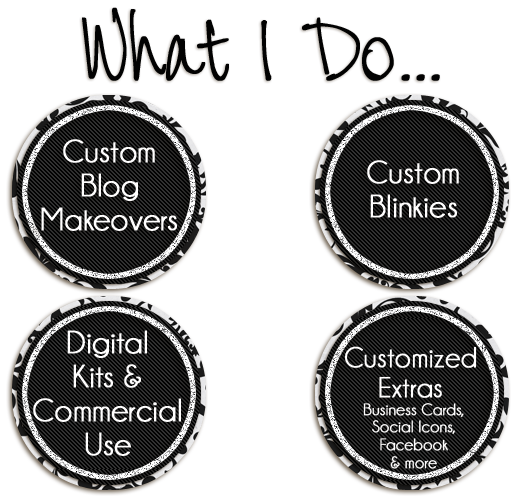 .
.
NOTICE TO ALL BLOG MAKEOVER AND BLINKIE CUSTOMERS!! PLEASE READ!!
I now have Custom Order Forms! After your purchase of a custom service from me, I require my customers to visit the Order Forms Page, download the forms that pertains to them, fill them out and return them to me. I will not be able to begin your order w/o a fully completed order form. Thank you for understanding!
Sale .
.
.

**ORDERING A BLOG MAKEOVER FROM ME IS NOW EASIER THAN EVER**
I now have detailed step by step instructions on how to order a blog makeover- EASILY!
Click HERE to find out how easy it is to order a blog makeover from me—> IN ONLY 4 STEPS!
Check it out and hopefully all of your questions will be answered! If not, always feel free to contact me!
.

Do you need help learning the in's and out's of the Blogger or WordPress platform?
Let me walk you through it at your convenience! Two lessons available!
.
.
..
Learn how to add your new blinkies to your blog today!
Follow my easy to use tutorials for Blogger and/or WordPress!
.
.
..